Spring Crew Schedule 2004
HNA Crew Parents Information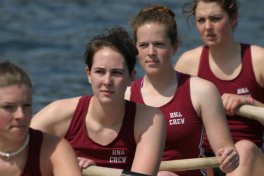 The Pacific Northwest Junior Regionals completed our season.
Just before that we competed in the Brentwood Regatta at the Brentwood College School in Mill Bay, Vancouver Island, British Columbia, Canada, on April 23-25, 2004.
My JV8+ boat took a silver medal in the Junior A JV8+ event and my JV4+ boat took a bronze medal in the JV4+ event. Our varsity 8+ boat took a second place in the high school event. Except for some high winds in the middle of the day on Saturday, which delayed the regatta for awhile, the weather this year was really beautiful. It was a great regatta with Canadian hospitality at its best at the Brentwood College School.
Earlier in April we rowed in the San Diego Crew Classic on Mission Bay in San Diego, California, on April 2-4, 2004.
I rowed in the JV 8 boat. In the Women's Junior JV Grand Final and we took 4th place with a time of 7:25.87. The third place boat ahead of us had a time of 7:25:25. Yes, it was a very close race for 3rd place! There were 14 boats in our Junior JV division in this national competition. The JV boat last year in this event had a time of 7:34.18 and took 5th place so we felt pretty good about how we did this year. To quote our head coach, Rome Ventura, "Ever since HNA Crew began to travel to race at San Diego (1997) we have never place higher than 5th out of 21 or so teams in this challenging regatta. This year the JV8 finished in 4th place!!!"