Patrick O'Brian
Author 1914 - 2000
Patrick O'Brian has authored a number of books which have captured the interest of many of us who are interested in the sea, history and classic heroic characters - isolate, selfless, stoic and enduring. Jack Aubrey, post captain in the Royal Navy, and Stephen Maturin, M.D., ship's physician and surgeon and intelligence agent for the Crown, embark on adventures which take them all over the globe. Once begun most readers find it hard not to complete the reading of all of these wonderful stories. Some unnamed readers have been through all of them more than once. They are available at Audible.com for download as audiobooks for your iPod. Some unnamed listeners have heard them more than once, too.
---
Aubrey/Maturin Novels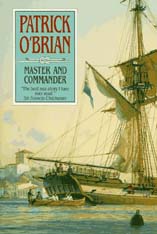 Master and Commander
Post Captain
H.M.S. Surprise
The Mauritius Command
Desolation Island
The Fortune of War
The Surgeon's Mate
The Ionian Mission
Treason's Harbor
The Far Side of the World
The Reverse of the Medal
The Letter of Marque
The Thirteen Gun Salute
The Nutmeg of Consolation
The Truelove
The Wine Dark Sea
Blue at the Mizzen
There is a message thread at: http://www.wwnorton.com/forums/POB/POBforum.htm
Patrick O'Brian was a prolific author. The Patrick O'Brian Home Page has more information about all of his literary works.

Back to Reading Interests