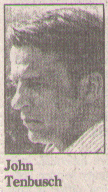 John Tenbusch
Tribute to a Teacher
Few men have dedicated their lives to teaching others for Christ so completely as John Tenbusch. Very few have been so successful in influencing so many to follow in the right path. His association with the Society of Jesus was a long and fruitful one.
His dedication to teaching and his commitment and love for his students made all of us better for having known him. His passion for excellence in and out of the classroom was palpable to anyone who knew him. He taught me high school English but he also taught me much more than that. He taught me about life. He taught me about God. He taught me about asking "why". He taught me to think. He taught by personal example. He helped others see God.
I Am The Resurrection and the Life.
If Anyone Believes In Me,
Even Though He Dies He Will Live,
And Whoever Lives and Believes In Me
Will Never Die.
John 11:25-26

This web page was created as a tribute to John Tenbusch, an inspirational English teacher who taught at the University of Detroit High School.