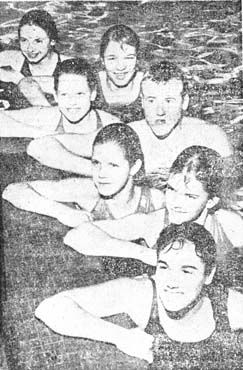 ON U.S. TEAM--Hard training and rigid discipline put these young swimmers on the American team that will compete against an all-star Canadian lineup in an international age-group dual meet at Hamilton, Ont., Jan. 20. Pictured from front to back: Mikie Shelton, Lee Davis, Joan Makkonen, Tom Sullivan, Carol Danboise, Lynne Makkonen, and Laura Frost. Miss Shelton represents the Women's City Club while Sullivan is from Detroit Tech, although he has been part of the Patton School squad. All the others are from Patton.
Bar Preps From Meet With Canada
By GEORGE E. VAN
State high school rules will prevent four Detroit swimmers from competing on the United States team in the annual dual meet with Canada Jan. 20 at Hamilton, Ont.
The ruling affects Ron Boyd, of Mackenzie; Rick Skarbo and Dennis Manrique of Western; and Jay Osrowske, of Dearborn. It was announced by Charles E. Forsythe, state director of high school athletics, in Lansing.
"Our rules prevent a high school athlete from representing any outside organization, even the United States, after the school season has started," Forsythe said.
With the return of Detroit high schools to state competition, this year the schools start practice in December. In other years, when Detroit didn't compete in the state meet, the Detroit prep swim season was over by this time.
All four boys swim a Patton Pool, under the supervision of coach Harry Hauck. Boyd and Osrowske were picked for the freestyle and relay events, Skarbo in the backstroke and Manrique in the breastroke. All are in the 15-16 age group classification.
Tom Sullivan, 21, of Detroit Tech, was named for the men's squad and will compete in the 200-yard breastroke.
An effort will be made to have the rule recinded or amended to allow high school swimmers to compete for their country next season.
Six Detroit girls, Carol Danboise, Lee Davis, Lynne Makkonen, Joan Makkonen and Laura Frost, of Patton Pool and Mikie Shelton, of the Women's City Club were named for the U.S. girl's team. The Ann Arbor Swim Club has four representatives on the squad. Sue Thrasher, Sue Clifford, Kate Fraser and Janice Snaveley.