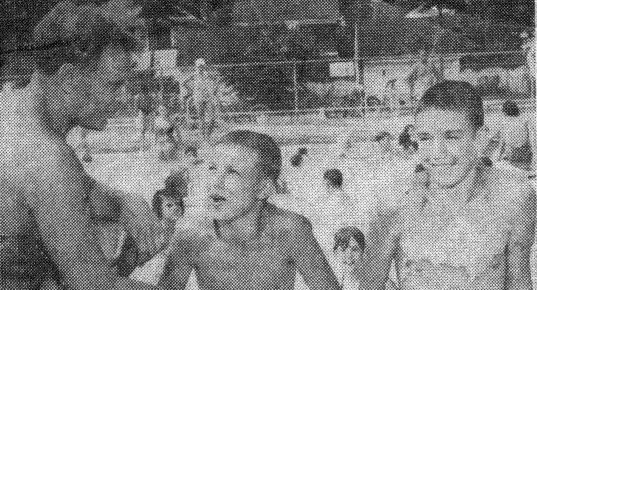 -East Side Newspapers Photo
SWIM DIRECTOR at Lipke Pool, Harry Hauck, talks over a couple of pointers with his young proteges and swimming champions, John Savinsky, age 12, 18848 Marx, and Monty Blashill, 15, 14274 Cedargrove.
Two Local Swimmers Abound in Laurels

Boasting over 100 ribbons, 50 medals and 25 trophies between them, state swim stars John Savinsky, 18848 Marx, and Monty Blashill, 14274 Cedargrove, 12 and 15 years old respectively, possess the potential to develop into two of the greatest swimmers Michigan has produced.
Proteges of Harry Hauck, swim supervisor at Lipke pool, Savinsky holds two state records in his age division with times of 1:07.7 in the 100 yard free style and 2:48.8 in the 200 yard individual medley. Blashill has won many titles in AAU competition and according to Hauck is one of the most promising swimming prospects in the state.
A recent graduate of Jackson School, he is presently enrolled in Denby High School where his presence will provide added lustre to the future swim program at the school.
For the past several years the boys have travelled extensively with Hauck, competing in swim meets throughout the Midwest.
Representing Department of Parks and Recreation, the most recent scene of triumphs for the talented duo was in Dayton, O., where they won seven medals between them in AAU swimming competition.
Savinsky, son of Mr. and Mrs. Alex Savinsky, has been competing since he was nine years old, and Blashill son of Mr. and Mrs. George Blashill since he was eight.