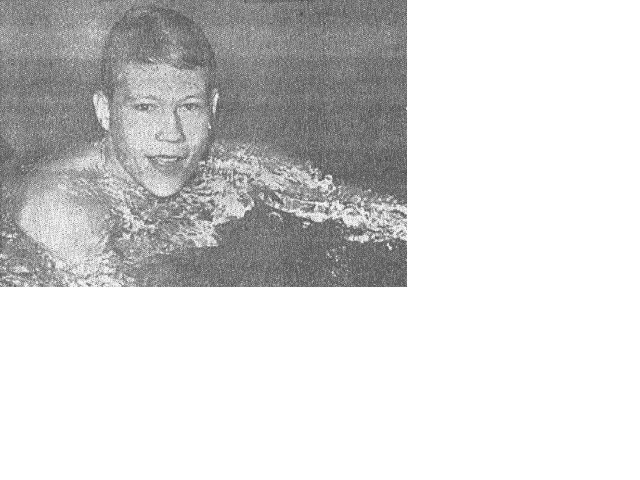 DOUG WEBSTER SET FOR RETURN TO VARSITY ACTION. ROYAL
OAK KIMBALL SWIMMER IS RATED AMONG THE BEST IN NATION
Webster to Rejoin
High School Team
BY JIM HIGGINBOTTOM


Doug Webster, ranked among the finest high school swimmers in the United States, is ready to rejoin his Royal Oak Kimball teammates.
The youthful All-Stater, holder of Michigan's Class A prep record of 3:56.8 for the 400-yard freestyle and the National AAU four-mile title, sat out the first half of the current season because of scholastic ineligibility.
"Doug has been practicing faithfully," said Kimball Coach Dick Heller, "and I think he'll be better than ever. We'll certainly be an improved team when he returns Monday."
Kimball was scheduled to swim Grosse Pointe today-minus Webster. The Royal Oak squad will face Hazel Park on Feb. 5 with Webster. Kimball's current won-lost record in dual meet competition is 8-1.
Webster will give Heller great latitude in planning meet lineups. He is a probable winner in all freestyle events from 100 yards up and in the backstroke, butterfly and individual medley. "I don't knock it," the personable Heller laughed.
Webster, a 16-year-old junior, with plenty of prep eligibility remaining, hasn't limited his recent activity entirely to the practice pool. He took six first places, breaking four records, and swam on two winning relays in the age-group meet at Patton Pool during the Christmas holidays.
Heller credits Webster with much of his team's success this season even though he hasn't helped Kimball on the scoreboard.
"The boys have had to chase him in practice and it can't help but make them go faster," Heller said.
No particular goals have been set for Webster during the balance of the season. A good guess might be that Doug will swim the 400 in the low 3:50s, the 100-for fun, perhaps-in 49 something and the backstroke about 56.
The 200 and individual? Wait and see.