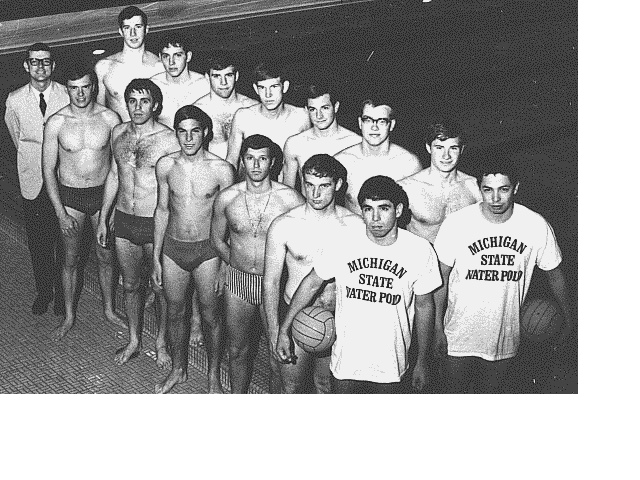 MSU WATER POLO TEAM-Members of the Spartan Water Polo Club at Michigan State are from the right (front row): Mark Manrique, Jack Brown, Bob Roman, Gregg Hoff, Ernie Herbezheimer, David Dixon and Coach Michael Doyle, Back row, from the right, are Dennis Manrique, Doug Jaskierny, Walt Wolfe, Pat Zelek, Ron MacDaniel, David Butts, Dan Kitchel, Ron Pohlonski.
* * * * * * * * * * * * * * * * * * * * * * * * * * * * * * * * *
Water Polo Club Formed By Brothers in Detroit


Mark and Dennis Manrique, a Michigan State student brother combination from Detroit, were primarily instrumental in organizing the Spartan Water Polo Club on the East Lansing campus two years ago. Both have extensive experience and interests in water sports.
The SWPC attracts many fine former high school and college swimmers who have a yen for the sport. Both undergraduate and graduate students participate in the club's activities.
The SWPC is sponsored by Michael Doyle, who is seeking a doctorate in philosophy and is a teaching assistant in Michigan State's Department of Communication.
Last year the Spartan Water Polo Club competed against several clubs in the Detroit area, including the University of Michigan swimming team, Wayne State University, and the Puerto Rico national water polo champions on tour of the U.S.