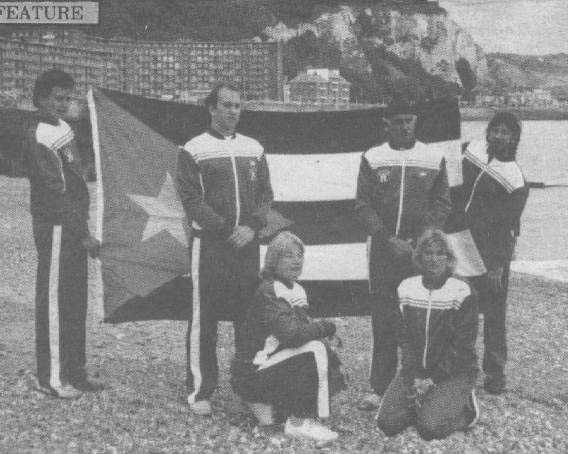 The Hauck family displays the Puerto Rican flag at the beach in Dover before undertaking their channel swim. Standing, from left, Jason, Harry Jr., Harry Sr., Tim, sitting Caroll, Krista.
Channel swims not for the faint hearted By HARRY HAUCK


Harry Hauck, the long-distance swimmer who swam from St. Thomas to Puerto Rico and then, with his family, swam the English Channel, will in May of 1988 swim around Puerto Rico . The round-the-island swim is part of a two-week long celebration of Hogares Crea's 20th anniversary, called a "Crusade of Faith and Hope" to signify the importance of the anti-drug campaign. To help publicize the celebration and show how grueling a long-distance swim can be, Hauck has lent us the diary of the family swim across the Channel. The italicized paragraphs that follow are from his diary, explanations are in regular type.
Shakespeare Beach, Dover, England

9:30 a.m., Sunday, Aug. 31, 1986
The other channel swimmers have already left the beach, but Tim is still greasing himself. He seems nervous. I've never seen him like this before. I put him first on the family relay because he is our best "blue water" swimmer. His hesitation comes as a surprise. If he doesn't get into the water and start swimming immediately, we'll miss the 10:30 outgoing tide.
When I called at 7 a.m., Reginald Brickell, our charter guide-boat captain, told me the sea had dropped to a "Force 3 or 3 1/2" (1 is flat calm, 10 is a hurricane). This is the best it has been since Hurricane Charlie wiped out our original go-date, on Aug. 26. Brickell said all signs were good, and that we should make our run at history today, since he couldn't guarantee that the weather would hold much longer.
10:30 a.m. First swimmer: Timothy

Tim is now alongside the boat, 42 minutes into his first leg of the relay. He is doing well, about 64 strokes a minute. He hasn't shown any signs of the anxiety that I observed in him earlier.
When I gave the rest of the clan the news that we were on go, I found them apprehensive but ready to get on with it. The sitting around waiting for good weather had been hard on everyone's' nerves. Due to the delay we were running out of time and money.
Harry Jr., just shouted something to Tim and he responded by giving his brother the OK sign with his thumb and forefinger. Guess the cold hasn't gotten to him yet. I think he's more sure of himself now.
The couple who manage the British Sailors Society Mission took us over to Folkestone in their mini-van. Folkestone Harbor, where the charter boats are kept, is 12 miles from Dover. The cook at the hotel had made up several dozen sandwiches and filled two large thermoses with black coffee and hot chocolate. As we unloaded, the family seemed a little edgy with one another undoubtedly feeling the pressure of the upcoming swim. We transferred all our gear: food, blankets, warm clothes, channel grease, cameras, personal medications, etc., from the dock to a small inflatable dinghy, then to the escort vessel, a 50-foot North Sea fishing trawler, named the Helen Ann-Marie. My daughter-in-law is named Anne-Marie, so I took this as a good omen. (Page 2)