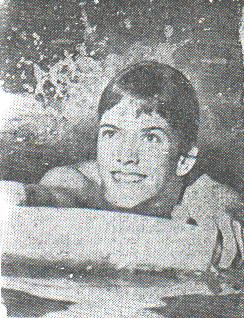 LEE DAVIS, YOUTHFUL RECORD SMASHER
Dearborn Youngster Has Broken 10 State Marks
Lee Davis is a pretty 12-year-old miss who will bear watching when trials are held for the 1964 Olympic swimming team.
Since last fall the Dearborn Township youngster has broken 10 state records in the 11-12 age group. The only event to escape her onslaught has been the breaststroke. She also has set five records in Ohio meets.
An all-A student at the Haston grade school, the 5-foot-3, 110 pound swimmer is a member of the Patton Pool team and is coached by Harry Hauck. Her father is an accountant with General Motors.
Her phenomenal achievements in the pool prompted her to challenge the unlimited age group in a mile swim final for girls over the weekend at Patton. The result was slightly surprising, too.
Lee bettered her own 24:42 record for the 11-12-year-old bracket by 2:12 with a clocking of 22:30 that spelled a second-place finish to 16-year-old Lynn Makkonen, also of Patton. Lynn's sister, Joan, 14, was third in 23:02. The former 14-15 year age mark was 23:55 by Laura Frost. Other finishers were Peggy Wirth, of Turners; Debbie Davis, of the Women's City Club; and Cynthia Osgood, of Turners.
Sue Thrasher, of the Ann Arbor Swim Club, who won the event a year ago with a state record clocking of 21:57.4, did not compete.
In other age bracket competition at Patton, Miss Frost, 14, took the 13-14 age mile in 25:15 and her Patton teammate Bonnie Danboise, 12, paced the 11-12 age mile in 26:38. Flint's Susan Easter topped the 10-and-under event in 28:50.
Next Sunday Miss Davis will team up with the Makkonen sisters and Mary Abbey in the national junior 200-yard medley relay at Flint. Lynn will swim the backstroke leg, Miss Abbey the breaststroke, Lee the butterfly and Joan the freestyle.
Last summer in a mile swim at Huntington, Ind., Miss Davis bested 73 other girls in her age group with a 25:58, only slightly slower than her sharp bid Sunday.
Lee, who will be 13 in April and 15 when the Olympic trials are held in 1964, never misses a day of practice. She swims twice on those Saturdays when no meets are held. She seldom swims less than two miles a day.
Her state records are in the 50 (28.1), 100 (102.1), and 200-yard (2:18.8) freestyle; the 50 (33.8) and 100-yard (1:15.3) backstroke; the 50 (30.6) and 100-yard (1:12.2) butterfly, and the 100 (1:20) and 200-yard (2:39) individual medley.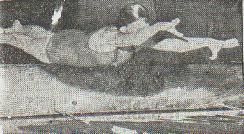 FIVE-FOOT-THREE, LEE DAVIS IS A MEMBER OF THE PATTON POOLTEAM