Water Polo Title
Makes Girls Battle
By GEORGE E. VAN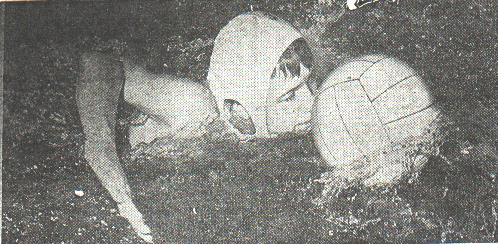 DRIBBLING, WATER STYLE-Lynn Makkonen, 16, uses her nose to steer the water polo ball as she dribbles the ball down the Patton Pool. She's captain and center forward on the Patton team, an entry in the girl's National AAU water polo championships. Below, members of Patton's team go through a scrimmage. That's Jackie Jones, goal keeper, with her arms in the air (left) The others clockwise are Vivian Carozzo, Susie Spilski, Joan Makkonen, Joyce Allen, Lee Davis, Lynn Makkonen, Nancy Weston and Leslie Taliaferro.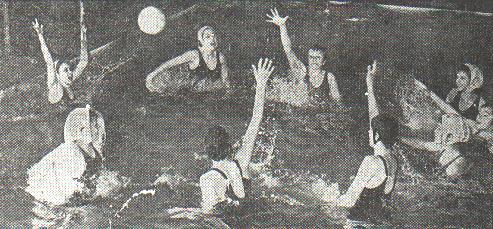 The National AAU water polo championship for girls will be revived after a 35-year lapse next Sunday at Patton Pool.
The event has been on the AAU books since the last meet, in 1926, was won by a team of girls from the Los Angeles Athletic Club. But no bid was made for it until Patton's Harry Hauck and Buck Dawson, of the Ann Arbor Swim Club, conceived the idea.
The tournament will be national in name only, however. The six teams entered are all local. Ann Arbor has entered two teams and there will be one each from Detroit Turners, Post AC, Denby and Patton.
There just aren't any girls' water polo teams around, and Sunday's entries all have had less than two months experience. Patton's squad should rate with the best. Coach Hauck's girls have been practicing with a boys' team for seven weeks.