Burned Out Junior
Defeats Swim Stars
By GEORGE E. VAN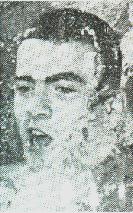 Pete Adams, 17, a junior at Pershing High, thought he was "burned out" and stayed out of swimming competition all last summer. Harry Hauck, Patton Swim Club coach, told the talented Pete that "it was all in the head" and that he should get back in the swim. In the fall Adams returned to the hard grind, swimming seven to eight miles some days.
Yesterday he was back in top form when he won the 200-yard freestyle open race in the Holiday age-group swimming meet at Patton Pool. Adams was up against a field of stars in the final.
He was fourth at the 150-yard mark behind Daryle Kifer and Jim McMillan, former prep stars here, now Michigan State freshmen, and Ray Kaye, star of the Northwest Aquatic Club.
McMillan, who never lost a race while competing for Eastern High, or for the Detroit Boat Club in the Michigan Inter-club Association, was moving away from the field with a steady, killing stroke.
But Adams passed Kifer and Kaye at 175 yards and came up even with McMillan after making the last turn. Adams then outsprinted McMillan to the finish to win in 1:56.3, good early season time.
McMillan took second in 1:57 and Kifer finished third in 1:59.5. Adams also was a member of the Patton 400-yard medley relay team with Rick Skarbo, Tom Sullivan and Ron Boyd, which nipped the Northwest AC foursome for a State AAU record of 3:56.5