Last Sunday, Feb. 11th, three girls from the Patton Swimming Team proved that there could be a first time for anything. Not only did the Patton girls sweep the Michigan State A.A.U. Women's Mile Championship, held at Patton, but they established three new records while doing so.
This was the first time any coach had ever produced a team which took first, second and third in the Open Championship event.
The Patton team, coached by Harry E. Hauck, also place eight other girls in the top 18 out of 121 entries.
Records went to Lynn Makkonen, Lee Davis and Joan Makkonen who swept the first three places in the Women's Open Mile.
Lynn Makkonen set a record for the Girls 15 and 16 with a time of 22:09.3, breaking a record she had previously set in 1961 (22:42.7).
Her sister, Joan Makkonen, established a new record in the Girls 13 and 14 with a time of 23:02.8, and Lee Davis again breaking a record she set in 1961 of 24:32.0, posted a new record for the Girls 11 and 12 of 22:36.5.
In the 10 and Under Mile, Patton placed two, Alice Ceresko and Susan Roll, out of the top six. Bonnie Danboise won the Girls 11 and 12 Mile with a time of 26:35.3, while Mary Lou Shefsky and Carol Danboise placed 4th and 5th respectively.
In the Girls 13 and 14, Patton's Sue Spilski, Linda Foster and Marcy Snyder also place in the top six.
The Michigan State A.A.U. Womens Mile Championship is sponsored by the Patton Aquatic Booster Club in cooperation with the Detroit Parks and Recreation Department.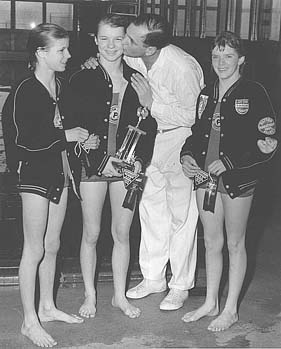 PATTON'S PRIDE are these three champions, who each took first place awards in the Michigan State A.A.U. Women's Mile Championship last Sunday at Patton Pool. Proud coach Harry E. Hauck gives a congratulatory kiss to Lynn Makkonen, who placed first for Girls 15-16. Lynn's sister, Joan (left) captured first for Girls 13-14, and Lee Davis, who capped the Girls 11-12 crown.