Six years ago an 11-year-old girl named Joanne Scarborough went swimming in the the outdoor pool at Butzel Field.
Today she is one of the finest all around swimmers in Detroit.
Later this month, Miss Scarborough, now a senior at Cooley High, hopes to make a name for herself in the national AAU championships in Bartlesville, Okla.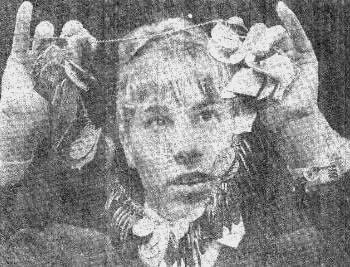 LAVALIERE OF SWIMMING MEDALS-This is only part of the collection of swimming medals won by Joanne Scarborough during the six years she has been racing and winning. The Cooley High senior, who competes for the Patton Tiger Sharks, has become the top all-around girl swimmer in Detroit and Michigan and will compete in the National AAU championships at Bartlesville, Okla., April 14-16. The lavaliere that frames her pretty face is much too heavy to wear but the chain makes a convenient way of handling her tokens of swimming glory. She swims all strokes-and well- and it is not unusual for her to win as many as a half dozen medals in one swimming meet as she did last weekend when she also set five state records in an AAU regional meet.-News Photos by Gary Cooperman.
In two years, she hopes to be good enough to swim for the U.S. in the Olympic Games in Mexico City.
Joanne, now 17, doesn't say much about her progress, but her mother, and biggest booster, Mrs. Jane Scarborough, does.
Mrs. Scarborough likes to recall the time her daughter started competitive swimming in 1960.
"Her first swimming coach was Joan Kintzing," her mother said, "She got Joanne interested in the Recreation Department's summer program.
"I'll never forget the first trophy Joanne won. It was for a breaststroke race sponsored by the Kiwanis at Butzel. Since then, I have lost track. I counted the trophies until her father got a cabinet for them. Now Joanne keeps adding trophies and medals almost every weekend. "Last Sunday she came home from Akron with six more medals.
"In Akron, Joanne set three Michigan records in the 15-17-year-old girl's class while competing in the AAU regional meet. She was clocked in 2:23.1 in the 200-yard butterfly, 5:03.1 in the 400-yard individual medley and 5:49.2 in the 500-yard freestyle.
Joanne did the 200-yard breaststroke in 2:32.4, but finished second to her friend, Cynthia Goyette, who did 2:31.6. Cynthia, an Olympic gold medalist from Detroit, lost to Joanne in the 200-meter breaststroke in an AAU invitational at Cuyahoga Falls, Ohio, last summer. She hit 2:53.5 to Cynthia's 2:54.8.
Miss Scarborough made the cutoff level for four events in the national AAU meet, April 15-17. She was 11.9 seconds faster than the 5:15 required for the 400 individual medley, 9.6 seconds below the 200 breaststroke level of 2:42, 3.9 seconds faster than the 1:14 for the 100 breaststroke minimum requirement and 6-10ths of a second better for the 200 butterfly.
Joanne, while two years younger, is considered a more versatile swimmer than Cynthia.
Miss Goyette, now a Wayne State sophomore, specializes in the breaststroke, while Joanne competes in the breaststroke, individual medley (butterfly, backstroke, breaststroke and freestyle) and freestyle.
"Joanne also has plenty of stamina and fortitude," says her present coach, Tom Sullivan, who guides the Patton Tiger Sharks. "She is easy to coach. She's a little shy of power, but she never stops practicing and trying to improve on her form."
Joanne has set 19 Michigan records in the past year. Last spring she set two junior national records, doing 5:12 in the 400 individual medley and 2:39 in the 200 breaststroke. She also set an American record when she did 2:42.9 in the 200 breaststroke over a long course.
Three years ago, the 5-foot-2, 112-pound Cooley coed won the three-mile marathon at Lake Wyoga in Ohio and last spring she covered 1,650 yards in 20 minutes, 8 seconds.
In a state Junior Olympic championship meet last year at Birmingham Seaholm High, Joanne set a record of 2:38.5 for the 200 breaststroke and a mark of 5:10.2 in
the 400 individual medley.
In November, she set five records in a Hall of Fame meet at Fitzgerald High and in January she led an American team to victory in an international event in London, Ont., by setting a meet record of 2:35.5 in the women's 200 breaststroke.
These are the highlights of her career, but there appears to be more records and trophies on the horizon.

JOANNE OFF IN MEDLEY AS BACKSTROKER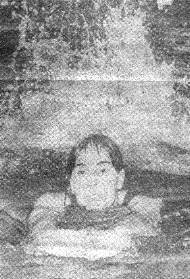 WINNING TAKES
HOURS OF PRACTICE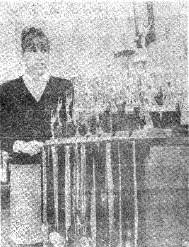 NO END IN SIGHT FOR
TROPHY COLLECTION