The Detroit News
PREP
FEATURE
PAGE
Gary Gottschling will have a big pair of shoes to fill when he enrolls as a highly touted high school swimming prospect, next fall at Royal Oak Kimball.
For the last three years Doug Webster thrived as Michigan's top high school swimmer while at Kimball and last month the 6'1", 180lb senior signed a grant-in-aid tender with Indiana.
But Gary just might live up to all advance notices. His credentials as a junior high and age-group swimmer are impressive.
Gottschling, who celebrated his 14th birthday last May 20, is similar in size and stature to Webster, Gary stands 6'1 and is 10lbs lighter at 170.
He made his competition debut at 11 in the 50-meter Oak Park recreation pool. The following year he proved himself as a comer when he entered a national AAU four-mile marathon race on Lake Wyoga, in Ohio.
Webster won that event and Gottschling wound up among the top 15 finishers. Gary completed the distance in approximately one hour and 45 minutes.
The effort served as a personal incentive and, in looking back over his relatively short career, as tonic for the lanky youth.
Although the Gottschling home is presently at 23881 Jerome in Oak Park,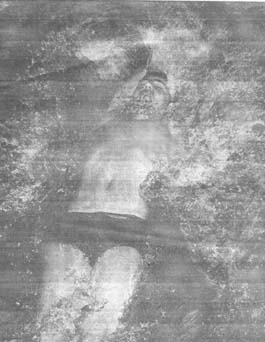 14-year-old Gary Gottschling shows his winning backstroke form. The youngster already has some 50 trophies, a few ribbons and over 50 medals.
Gary is an eighth grade student at St. Paul Lutheran parochial school in Royal Oak.
"We're about two miles from St. Paul and I usually drive him to school," said his mother. "Sometime this summer we're planning to move to Royal Oak so it'll be more convenient for Gary and also to be in the Kimball school district."
A year ago Gary chalked up three national age-group swimming records in the 11-12 year old division as a backstroker and bettered another existing mark.
He swam the 50-yard distance in 28.4, the 100 in 1:01.9 and the 50-meter in 32.1, all in the backstroke.
He also was timed at 2:10.8 for the 200-yard backstroke in a short course, 20-yard pool in the 13 and 14-year-old bracket.
Gary already has a collection of some 50 trophies, a few ribbons and more than 50 medals. The most prized award is a silver cup which he won in an age-group mile race the day before the testing four-miler on Lake Wyoga. It was presented to him by the Lake Erie Association of the AAU.
On a national level two other youthful challengers loom for Gottschling in his bid for titles at various AAU indoor and outdoor meets in his own age bracket.
They are Duncan Scott, of Phoenix, Ariz., who holds some 18 records, and Bill Murtaugh, another fine stroker from Toledo.
Gary actually is a native of Spokane, Wash. He was born during the Korean War when his father, John Gottschling, was an Army Air Corps pilot assigned to Fairchild Air Force base.
The senior Gottschling completed 34 missions, flying B-24 bombing raids in the South Pacific during World War II, and then served as a B-29 instructor during the Korean conflict. His uncle is Peter Salmen, the thoroughbred racing owner whose Crimson Satan won the Michigan Mile in 1963 at the Detroit Race Course.
Gottschling now is a foreman in a plant here that manufactures plane parts.
In preparing for his impending prep career, Gary will spend this summer as in the past, in daily workouts from 7 to 11 a.m. at Brennan Pool in Rouge Park under the watchful eye of Coach Ron Alsobrook.
During the winter season Gottschling did most of his practice sessions with Webster at Patton Pool.
"When Gary first started to race under the coaching of Harry Hauck (now at a private club in Puerto Rico), Webster was on top of the pile," recalled his father. "They developed a fine friendship and we'd take turns driving them over to Patton pool."
Many of Gary's swimming pals, both at the St. Paul school and at Patton, are also planning to enroll at Kimball under Coach Rick Fields. At Patton he was coached by Tom Sullivan."
Along with his summer practice sessions, Gottschling also will compete as usual in five or six AAU sanctioned meets at such sites as Cuyahoga Falls and Toledo in Ohio.
"In view of his prep career, it isn't likely that Gary will step up the tempo in racing competition." said his father. His coach, Mr. Alsobrook, puts more emphasis on rigid training and building up endurance. But he should be ready for the Kimball challenge.

Gary Gottschling

New Hope at Kimball


Doug Webster
Leaves Big Gap