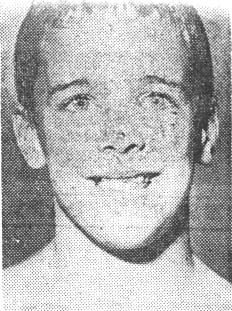 TOM SZUBA
Wins 3 of 4 Duels
25 Records
Shattered
at Patton
BY GEORGE E. VAN
Twenty-five state swimming records were broken in the 57 events held in the two-day meet which concluded Saturday as Patton Swim Club kept its team title in the second annual holiday meet held in its pool.
Fourteen of the marks came Saturday during the 36 final races. Coach Harry Hauck's Patton squad had 244 points. Turners Swim Club, a 'waif team' without its own pool, finished second with 162 points.
Northwest Aquatic Club was third with 158 and Etobicoke Aquatic Club, of Islington, Ont., took fourth with 136 among the 32 teams entered from the Midwest and Canada.
Sue Spilski, 15, of Denby High, won over Patton teammate Linda Foster, 15, of Lincoln Park, in a blanket finish for the state 500- yard freestyle championship for girls 16 and under. Sue's time of 6:25.3 set a state mark, a tenth faster than Linda's.
Jim McMillan, a Michigan State freshman won the 100-yard freestyle in 50.9, slapping into the finish ahead of Daryle Kifer, also an MSU frosh, and Ray Kaye, of Northwest A.C. Pete Adams, of Patton, who beat all three in the 200 Friday night was fourth in 51.8.
Eight-year-old Tom Szuba, of Patton won three out of four 25-yard races in freestyle, butterfly and backstroke and set records in each but finished second to Perry Crossland, of Toledo Club, in the breaststroke. Tom's time beat the old breaststroke record but Perry did it sooner. Tom, then swam with his brother John Szuba, Tom Koch and John Allred, to win the 200-yard relay.