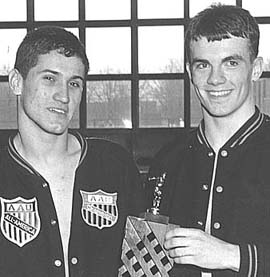 Saldana and Adams
Adams Wins
DETROIT, Mich.--Rick Skarbo went the entire distance backstroke. Pete Adams went freestyle. Pete won, naturally, at the annual Michigan AAU one mile swim championships. Pete, the 16-year-old Patton Pool ace and defend- ing champion, covered the distance in 19:41.0 to break his own record.
Skarbo, with his unique back- stroke effort, could do no better than sixth place but had a good time - for the backstroke - of 21:28.3.
Second to Adams was teammate George Saldana 19:58.9, while Allen McDaid of the Northwest Aquatic Club was third 20:15.5.
Age group honors went to Doug Webster of Patton in 13-14 (20:24.3); Greg Golin of Northwest in 11-12 (21:48.2) and John Szuba also Patton, in 10-and-under (25:28.0) while little Bobby Koch of Patton, just six covered the distance in 40:27.0.
All of the age group winners also set new records.