By JIM HIGGINBOTTOM
There appears to be a new star around every turn of the pool in Michigan high school swimming. Many of the standouts of this season, which ended officially Saturday, will be in college next fall. But some of the returnees promise to be something special.
Take Doug Webster, 15-year-old Royal Oak Kimball sophomore. Already the National Junior AAU long-distance champion, young Doug became the first Michigan high school swimmer to crack 4:00 in the 400-yard freestyle Friday night with a time of 3:59.8. He came back Saturday in the finals of the event in the state Class A meet at Ann Arbor with the blazing time of 3:56.8. "One of the greatest races I ever saw," appraised Gus Stager, University of Michigan coach. That performance almost automatically gave Webster a spot on the second annual Detroit News All-State swimming team, which includes several others of national ranking.
Those selected with Webster are: Ken Wiebeck, of Thurston, the finest all-around swimmer yet produced here; freestylers Pete Adams and Tom Coupe, of Birmingham Seaholm, and Dave Gibson, of Saginaw Arthur Hill, and butterfly specialist John Musulin, of Monroe. Frank Freeman, of Fordson, a midseason graduate who has the fastest 100-yard breaststroke clocking in the nation, and Rochester's one-man team, backstroker Hugh Wilder, also are on the All-State list. Ann Arbor High's combination of Fred Boyles, Dave Cushing, Pete House and John Baird was chosen for the medley relay with the Birmingham Groves unit of Kevin Tooma, Scott Jones, Chuck Mitchell and Dave Mead listed for the freestyle relay. Chuck Stenback, of Ferndale, is the All-State diver. Don Trost, producer of two consecutive state Class B championship teams at Riverview, is The News' swimming coach of the year. Cory Van Fleet, of Seaholm, was selected last season.
An exception from normal All-State policy was made in the case of Freeman, whose breaststroke clocking of 1:01.7 for the 100 yards just prior to his February graduation was only a tenth of a second off the national scholastic record. Midseason graduates do not usually qualify for All-State consideration. But Freeman, who appears headed for Indiana University, was so outstanding that coaching experts and rivals alike could see no other choice.
Prep Honor Roll
200-YARD MEDLEY RELAY
Ann Arbor High -Fred Boyles, Dave Cushing, Pete House, John Baird, 1:42.4 (state record).
200-YARD FREESTYLE
Pete Adams, Birmingham Seaholm, 1:50.2 (state record).
50-YARD FREESTYLE
Dave Gibson, Saginaw Arthur Hill, 22.0.
200-YARD INDIVIDUAL MEDLEY
Ken Wiebeck, Thurston, 2:03.9 (state record).
100-YARD BUTTERFLY
John Musulin, Monroe, 53.7
100-YARD FREESTYLE
Tom Coupe, Birmingham Seaholm, 49.6
100-YARD BACKSTROKE
Hugh Wilder, Rochester, 58.3
400-YARD FREESTYLE
Doug Webster, Royal Oak Kimball, 3:56.8 (state record).
100-YARD BREASTSTROKE
Frank Freeman, Fordson, 1:01.7 (best of season in U.S.).
200-YARD FREESTYLE RELAY
Birmingham Groves-Kevin Tooma, Scott Jones, Chuck Mitchell, Dave Mead, 1:31.6 (state record).
DIVER
Chuck Stenback, Ferndale
COACH
Don Trost, Riverview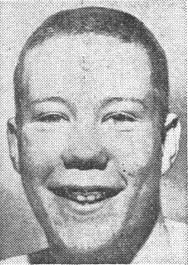 DOUG WEBSTER
400-Yard Freestyle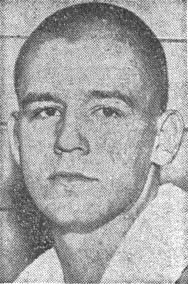 KEN WIEBECK
200-Yard Individual Medley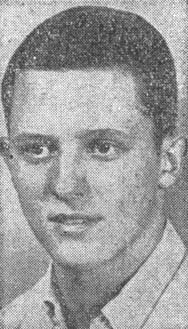 FRANK FREEMAN
100-Yard Breaststroke
PETE ADAMS
200-Yard Freestyle