Victory after victory has been the tempo of the Western swimmers this year as they have gone undefeated in seven dual meets. They have won the West Side championship and are looking forward to the dual meet champion- ships with Denby.
To win the West Side championship the Tankers have had to outswim three strong teams in this year's league: Redford, Cody, and last year's city champions, Cooley. All season the Tankers have been preparing to meet the strong Cooley team. To begin with, Western edged Redford 55-50 and took care of Cody 57-48. Then Western showed its potential in two easier meets against Chadsey and Southeastern by running the score up into the sixties.
On February 7, Cooley, last year's city champions, and Western met head on, both with perfect 5-0 records. The winner of this meet would most probably also be the West Side champions. Both teams were in full strength and in a close seesaw meet, 6 new records were set, some pool records, city records and a state record, before Western emerged the victor 55-50. Coach Gunnerson was confident that the Tankers could win if they kept Cooley from placing 1st and 2nd in any event, allowing that Western take first and second in 3 events.
In the 200-free, George Saldana received sustained applause for beating Karasick of Cooley and setting a new pool record of 1:57.8 sec., bettering his own previous record. Rick Skarbo and Mark Manrique then took the expected first and second in the individual medley, Rick bettering his old pool and city record. Skarbo also set a new pool and city record in the 100-yard backstroke of 57.6 sec. Bill Jennison was a double winner for Cooley setting a new pool, city, and state record in the 100-yard butterfly with an amazing time of 53.7 sec. George Saldana and Mark Manrique took first and second in
Team "Dunks"Coach
After Coooley Meet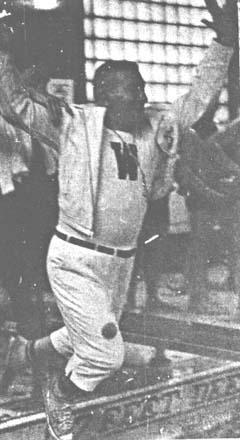 Gunnie takes the plunge.
the 400-yard free and again George bettered his old mark and set a new pool and city record of 4 minutes 13.2 sec. Jim Nagy edged out Cooley swimmers for second place in the 50 and the 100-free thus preventing Cooley from taking the devastating first and second places. Dennis Manrique and Craig Dwyer finished off Western's victory pace by taking first and second in the 100-yard breaststroke.
City finals will be held at Patton Pool today. Western swims Denby from the East Side in our pool on March 7 for the city dual meet championship. This meet will complete the regular season for Western. However, the state meet in Lansing is yet to be held. Only a few of Western's Tankers have qualified to swim in this meet. You must do a minimum time twice during the season in order to qualify. Rick Skarbo and George Saldana are the only ones to have qualified so far.