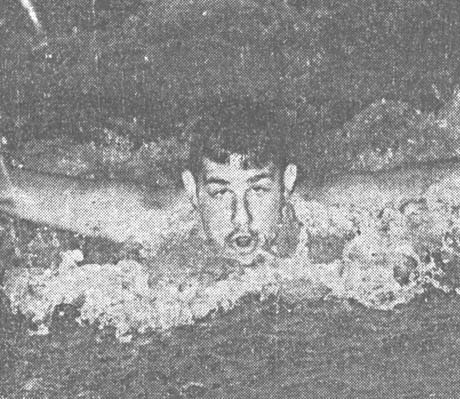 IMPROVEMENT comes with a steady diet of hard work. Here's Fred's form in the butterfly.
RUSSIANS PACING GAMES FOR DEAF
NEWS WIRE SERVICES
WASHINGTON, June 30--Russia collected four gold medals in the 10th International Games for the Deaf yesterday. Antonina Bubnova took firsts in the 100-meter dash and long jump, Leonid Djourouk captured the 800-meter run and Victor Damanov won the 10,000-meter walk to give the Russians a total of six gold medals in the competition.
The best United States showing came in the 100-meter dash. Pete Davis, of Berkeley, Calif., was first in 10.8.
Two Michigan athletes - Roy Scriptor, of Durand, and Matrika Vorsmarty, of Grosse Ile, were eliminated in qualifying events. Scriptor lost in the semi-finals of the 880 run and Miss Vorsmarty failed in the discus.
In swimming, Fred Savinsky, of Warren, Mich., finished third and won a bronze medal in the 1,500-meter freestyle. It was the first time an American had won a medal in swimming at the games.
Loszlo Kollar, of Hungary, was the gold-medal winner with a world deaf mark of 19:45.2. Savinsky's time was 20:44.7, a half-minute under the American deaf mark.