CAPTURES TOUGHEST RACE
Closing Kick Boots Glick
To AAU Distance Title
By JOHN FLYNN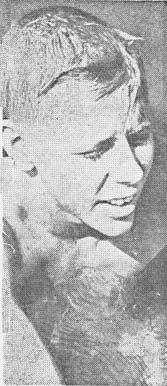 Eddie Glick, 17-year-old defending champion from Huntingon, Ind. and George Mollis, a 52-year-old Akronite, finished the National AAU Men's Senior long distance swimming race over a four mile course Saturday at Wyoga Lake.
Glick had to beat off the challenge of two other swimmers to win the championship in a blanket finish. One was not Mollis who came in some two hours behind the winner in three hours, 29 minutes, 23.8 seconds.
Long after the other competitors had finished, Mollis' friends and relatives gathered around the dock to welcome George home. One of the well-wishers was George's daughter, Maria-Elena. Mollis entered the race to show her he still had the get-up-and-go to swim the distance.
Mollis, a bit pale after the race, still had the stamina to trot to the Wyoga dressing room. Glick, in the "toughest race I ever have swum," had to sprint the final 220 yards to nip Ed Naber and George Saldana in the fantastic finish for a four-mile race.
Coming down the stretch, Naber and Glick wet stroke for stroke with Saldana, a 17-year- old Mexican from Detroit Patton Pool, refusing to fold.
Glick sprinted under the wire in 1 hour, 26 minutes, 13 seconds, a mere two seconds ahead of Naber who was clocked in 1:26:15.2 and some three yards ahead of Saldana who was timed in 1:26:19.0.
Naver, from Oak park, Ill., was the surprise of the race, along with Saldana who cane to Detroit seven years ago from Nuevoloredo, Mex.
Naver might have upset Glick if he had been able to hold a straight course. Glick summed up the race when he said, "I'm sure glad Naber wasn't able to swim a straight line. He must have logged about four and one-half miles."
Glick's clocking was under the national championship meet time of 1:26:45.3 held by Roy Saari, but didn't match the American citizens record of 1:25:41.5 set by Winston Pendleton. The American standard is 1:25:14.5 held by Australian, Murray Rose.
Patton Pool walked off with the team title, placing Saldana third, Doug Webster fourth and Monty Blashill fifth in the 34-man field. Kathy Baker of Long Beach won the women's senion in 24:29.4. Sandy Olson of Cleveland was second in 27:23.0
Peggy Sherk of Patton Pool won the half-mile event for girls 8-10. She was timed in 14:21.7, beating Ellen Cochrane of Rubber City who clocked 15:35.1, Brenda Job of Cortland was third and Rex Stewart of Water Works was fourth.