by JIM PORTER
Sports Editor
He's a superstar who never heard the crowds cheering his exploits.
But soon Fred Savinsky will stand on a pedestal of the highest honor among people who live in a world of silence.
The 21-year-old dental technician who prepped at Warren Cousino has been named Outstanding Young Deaf Athlete of the Year for 1969 by the American Athletic Association of the Deaf.
Savinsky won this national tribute in swimming. In the last two World Games for the Deaf - held every four years like the Olympics - he led the United States to victory twice. In the '69 Games Savinsky achieved an unprecedented feat of winning five gold medals in record performances - three solo and two on winning relay teams.
The gold he mined brought his medal tally up to nine in the Games . . . and a never-to-be-forgotten award. It was scheduled to be presented to him at a Hall of Fame Banquet on April 3 in Oakland, Calif. But other arrangements will be made to bestow this honor near home since he doesn't plan to make the trip.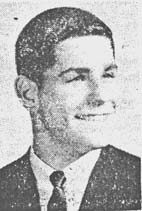 "We're very, very proud of Fred," said his mother, Mrs. Alex Savinsky, 11708 Canterbury, Warren. "He has overcome his handicap just beautifully.
"Fred was quite thrilled by the award. But most people expected it."
Mrs. Savinsky said an early start in swimming and a perfectionist attitude led to her son's unparalleled success. "His older brother used to be in a recreation swim program and Fred tagged along with him when he was young. Fred is the type that, if he starts something, he feels like he has to do his best. And he always did do his best."
In high school he was unbeatable in individual races in league competition. His coach, Jim Elliott, who still handles the squad at Cousino, remembers the big splash Savinsky made in prep swimming circles.
"He's the only Cousino swimmer to ever win a state championship (100 yard butterfly)."
"Savinsky cracked records in the 400 freestyle, 200 yard individual medley, 100 freestyle and swam on record teams in the 200 yard medley relay and 400 freestyle relay."
"And he still holds two records in the 200 yard freestyle 1:58.3 and 100 yard butterfly :55.9."
"He is the most outstanding all-around swimmer we have ever had. He started when he was six. This gave him a tremendous edge as it does with all who are placing high in the state meets now."
"He made real efficient use of the water. It's like drag racing. If a dragster just sits there and spins its wheels, its power is doing no good. It needs that traction. It's the same with a swimmer. If he doesn't have that traction, he's very inefficient in his use of the water. Longtime swimmers have tremendous use of the water and get maximum benefit from their strength."
Savinsky's deafness posed no problems or difficulties, Elliott added.
"Fred had just enough hearing to hear the starting gun. And he could feel it. It was really no handicap."
"When he joined the team the other swimmers had hopes that he would completely verbalize with them. He could read lips and he was easily understood. But he got them to talk to him in sign language, too."
Savinsky became an international star before graduation. In the 1965 Deaf Games he became the first American male to win a gold medal. Three more medals for second and third place finishes helped boost the U.S. all the way from last place in the previous Games to first place.
"When I climbed up on the highest place of the victory stand it was the happiest time in my life." Fred said five years ago. "They tell me they were toasting me as the world's champion but I didn't hear a word. But I could see that everyone was happy."
Savinsky topped himself in the next Games four years later. He established new world records for the deaf in the 200 meter butterfly (2:27.5), 400 meter freestyle (4:45), 100 meter freestyle (59.4) and also swam two legs on record-setting relay teams.
Once again the Yank team left everyone in its wake with a runaway triumph. America captured 23 medals. Runnerup Canada was a distant second with seven.
"We completely annihilated the opposition," said John Wieck, who coached the team. "We got almost half the total medals."
Wieck has perfect hearing and was picked as coach on his record as a producer of champions. He was once a coach at Fitzgerald High School and is now at Birmingham Groves. He had known about the ability of Savinsky, deaf since birth, a long time.
"Fred worked hard and came along just perfectly for that meet," said Wieck. "You always try to peak a boy for a specific date and Fred hit it right on the button.
"I didn't expect him to win the 100 meter freestyle, though. Fred hadn't been the greatest sprinter up to then...he was a better distance racer.
"In the heat prior to his, a Russian broke the world record. But then Fred broke that record in his heat. And in the finals he beat the Russian and lowered the record some more."