Marathon
Man

Swimmer, diver and environ- mentalist Harry Hauck keeps going strong at age 72.
By Devon Victoria Antonelli
No one knows the waters around Puerto Rico like Harry Hauck.
For more than 30 years this 72-year-old Detroit native has been teaching people to scuba dive in the island's balmy waters. He's taught so many divers-to-be, that he's lost count at around 1,000. Hauck has also instructed and coached swimmers and even organized an Olympic water polo team.
But that's been only part of Hauck's work in the water. A long-time advocate of keeping the environment clean, Hauck has been organizing underwater cleanups here since the 1970s. In addition, he has swum marathons, including a 325-mile, 36-day swim around the island to help combat the use of drugs and the spread of aids.
(Above right) Harry Hauck has organized more than 300 under -water beach clean-ups since 1971. (Above) He also teaches beginners to scuba dive.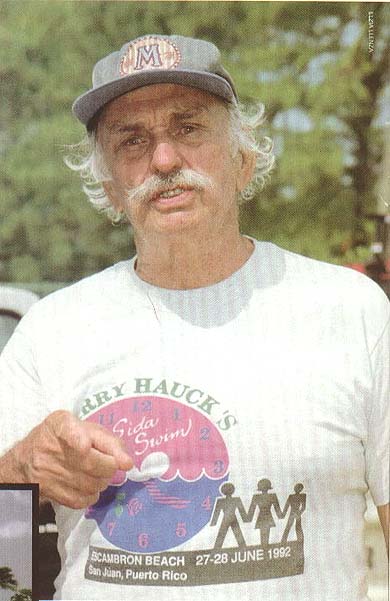 Considered one of Puerto Rico's best known swimming and diving personalities, Hauck received his scuba training from the U.S. Navy during the Korean War. He was then a member of the Underwater Demolition Team, known as the Frogmen, the precursor to today's Navy Seals.
The Navy trans- ferred him to Puerto Rico in 1952 and he fell in love with the tropical island. After returning to Detroit and producing 125 all- American swimmers, and one Olympian while working at a recreation center, Hauck received a
plethora of offers for coaching jobs. In 1964, he jumped at the opportunity to coach in Puerto Rico and has called the island home ever since.

Island Adventures

In Puerto Rico, Hauck founded the Puerto Rico Olympic water polo team, coached a swim team for the Caribe Hilton Hotel and taught Fort Buchanan's U.S. Army personnel and their families how to dive. While working at Fort Buchanan, he also became known for his marathon swims, which he undertakes wearing only a bathing suit, cap and goggles. Go to page 2