FIRST COMPETITION SINCE '63
City League Back in Swim
BY TOM JAKOBOWSKI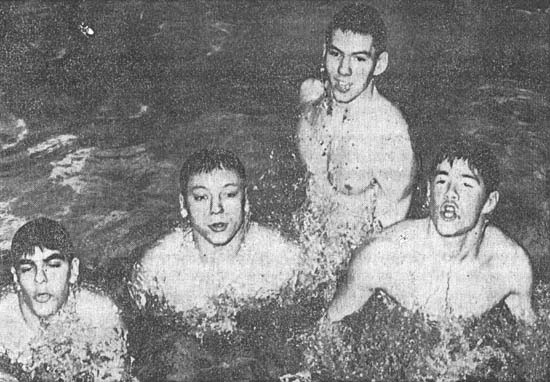 BACK IN THE SWIM of things after a year's absence are these four splashers from Western High School-Dave Sahagian (left), Anthony Gramer, Dave Christie and John Hopper.
---
Swimming got its second baptism as a competitive City League sport Wednesday as Denby and Central dueled. The rest of the league starts Thursday, and in case anybody has forgotten during the one-year absence of the sport, Western High is the defending duel meet champ and Cooley won the last championship meet in 1963.
Failure of the millage increase at the polls started a budget reduction which left the swimmers high and dry last season.
Though the athletic program was restored almost entirely for the spring term after a citizens' committee went to bat for the athletes, swimming was dropped completely while golf and tennis were continued only at schools which chose to work them into their programs.
The swimming revival makes Western coach Wil Gunnerson a marked man among his coaching brethren. "They keep telling me I have all the power--by 1963 standards," Gunnerson says. Trouble is, its now 1965 and veterans are scarce if not nonexistent as his team takes the plunge again.
"The lapse especially hurt our divers," Gunnerson added. "Once their training continuity is broken, it's hard to make it up. The timing is so important, it's hard to bring a diver back into form by showing him movies. You have to work with live flesh."
Gunnerson sent what was left of his squad to Patton Pool for AAU swimming and kept an eye on them whenever he could as a spectator or by serving a a starter in meets.
Two boys he sorely misses are George Saldana and Rick Skarbo, who set City League records before the budget storm hit. Saldana and Skarbo, both seniors, were recruited by onetime City League standout Fletcher Guilders, now coaching them at Miami University in Oxford, O.
Other teams suffered when undergraduates transferred to suburban schools which had thriving programs.
Pershing's talented Pete Adams, who set two league marks, went to Birmingham Seaholm and outstanding performances there led him to Harvard.
How well the City League has regrouped will be determined in the rest of the openers when one time powers like Western, Cody, Redford, and Cooley start on the road back.
Denby showed it may be ready with 72-33 conquest of Central in Ed Rutherford's debut as a swimming coach. Fred Cowles and Gary Van Gorp were double-winners for the Tars.