By HARVEY BARCUS
Besides being a double winner and record breaker, 16-year-old Pete Adams, of Pershing, helped decide the Public School League swimming championship at Patton Pool last night.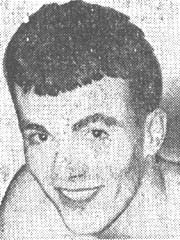 PETE ADAMS
Wins 2 for Pershing
He edged George Saldana, of Western, in two close finishes to give Cooley the team title with 50 points to Western's 48. It was the fourth straight for Cooley, coached by Harold Lindsay.
The Pershing star beat Saldana by a yard in the 200-yard freestyle in 1:53.3, breaking the Public School League record of 1:55.7 he set last year. Saldana was also under the record in 1:55.4.
Later Adams won the 400-yard freestyle in 4:08.7, beating the record of 4:14 set by the Pershing junior in 1962. Saldana again bettered the record in 4:09.6, but the best he could get was second place for his efforts.
"I figured we'd get 50 points and tie Cooley with Saldana getting a first in one of the two races but the Pershing boy fooled me," observed Gunnerson.
Two records were broken in addition to those by Adams. Another was tied.
Seventeen-year-old Rick Skarbo, of Western, set a mark of 2:09.2 for the 200-yard individual medley and Bill Jennison, 18, of Cooley, reduced the 100-yard butterfly time from :55.5 seconds, in the preliminaries, to :55.4.
Skarbo also was first in the 100-yard backstroke in :56.7 seconds, a tenth of a second from his own record of :56.6, and Jennison tied the 50-yard freestyle mark of :23.3 seconds, which Larry Hatswell, of Redford, set last year.
BILL JENNISON
Sets Butterfly Mark
With only the 200- yard freestyle relay remaining Western led 48-46, but it didn't qualify for the final race and Cooley clinched the meet by swimming safely and placing fifth for four points.
By winning, Cooley came within one title of tying the record of five straight championships set by Northwestern swimmers from 1933 through 1937.
"The boys are swimming much faster today than they did when I was coaching," said Leo Maas, the Northwestern coach of 26 years ago.
Maas, coach of swimming at the Detroit Yacht Club, was a spectator last night.