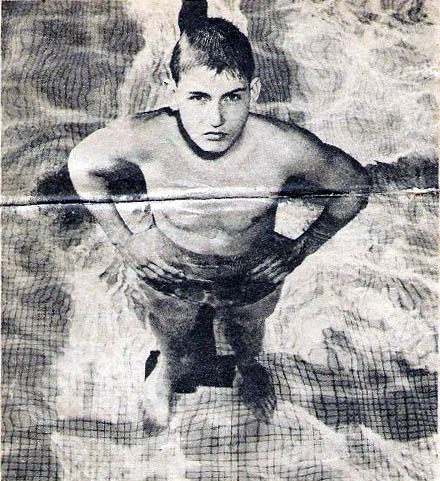 Photo by Hal Burgert
Jim McNairy: At 14, Detroit's Most Promising Swimmer
COACHES SAY HE'S THE . . .
BEST SINCE BUMPY
By JIM LYCETT
TEN YEARS AGO, when a husky Redford High School lad named Burwell "Bumpy" Jones thrashed his way to a host of city, state and national titles, he was promptly dubbed "the best all-around swimmer Detroit ever produced."
Today, for the first time since Bumpy left Redford for added fame at the University of Michigan, Detroit has come up with a suitable challenger.
Still four months shy of enrolling in high school, 14-year-old Jim McNairy is swimming all strokes so well he's called the best since Bumpy.
Ron Alsobrook, Jim's coach at Patton Pool, says the sturdy eighth-grader's versatility and stamina (he swims two miles in practice) make him a sure bet for stardom. Echoing Ron is W.L. Gunnerson, swimming coach at Western High School, where Jim will enroll next September.
"Considering his ability in all events," Gunnerson enthused, "I think Jim is the most promising Detroit swimmer to come along since Bumpy."
During a recent practice session, Jim was clocked in 2:10 for the 200-yard freestyle, great for a 14-year-old and only a shade off Bumpy's time at that age.
"Jim is a trifle slower than Bumpy was at 14," Alsobrook said, "but he really didn't get started until last year. Bumpy swam his first race in the Detroit Boat Club pool when he was eight years old."