(cont'd)
A WESTERN COACH'S LAMENT
While yore back at the ranch, try our sweetin' in yur Java or tea.
And by the way--do ya have any top hands whose "ride" must necessarily not be free?
Out here in the desert our free and back bulldoggers are woefully weak,
And calf ropers and bronco flyers we desperately seek.
An I.M. cowhand would be a joy.
Four relay wranglers--boy, oh boy.
But pools, equipment, yippeo-coyo we have to offer
Perfect weather--Valley of the Sun--big outdoors--is ours to proffer.
The air's so clean, not even dude laundry gets dirty,
Our book larnin's good--even the teachers are purity.
Curriculum--they call it--is top dog and a challenge to the best,
Academically we rank with the fastest draws in the West.
A tenderfoot not interested in dude ranches with Ivy walls,
Or the dreary Midwest when winter calls,
Who has a top wrangler coach who cottons toward share the wealth distribution,
Is sure to find Arizona State a "sweet" institution.
YOU'RE TO BLAME!
Yes, you're to blame for the spread of Foam-Fare. It's hard to believe, but Friar Francis has run nearly 20,000 sheets of Foam-Fare through the mimeograph machine at DeLaSalle since September. By the way, you may have noticed that I got ahead of the game somewhere along the way--10 issues in nine months. This is likely to even out in the summer months when I am no longer attending classes...you see, I used to write Foam-Fare while sitting in class--when I went to class.
ATTENTION CONTEST PLAYERS! WIN BIG PRIZES! JUST FIND THE LETTER "i" IN THIS ISSUE WRITTEN IN ITALICS, AND WRITE TO THE EDITOR, SENDING YOUR COPY OF FOAM-FARE WITH THE ITALICIZED LETTER "i" CIRCLED. IF YOU'RE ONE OF THE FIRST THREE TO DISCOVER THE "i" YOU MAY WIN A BIG PRIZE. ANSWER NEXT MONTH.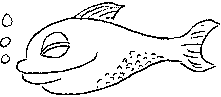 -5-