"The Tigershark Chronicle"
Vol. II No. 10
Editor: Tom Sullivan (still looking for Mary Christmas)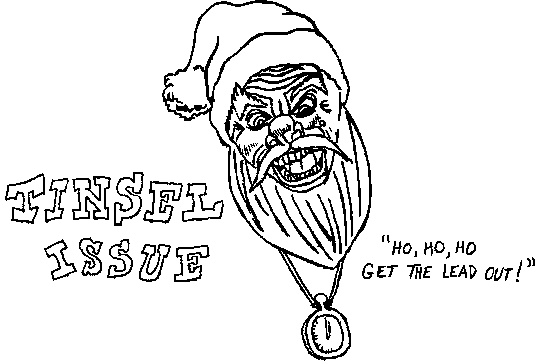 (underwritten by the Society
for the Prevention of Cruelty
to Reindeer and the AAU-Arms
for Antlers Union)
HARK! I HEAR A BELL
For swimming men worth their salt, those who give their all,
Days are measured faithfully by ringing on the wall.
The coach's phone at any hour seldom is resisted--
More power to that strange, staunch breed whose numbers are unlisted!
And when I've finished talking having reached the age to die,
I hope to find that Heaven's not a phone booth in the sky.
But if I go down below, with Lucifer in Hell,
Across from me I know I'll see, Alex Graham Bell ...
DON'T MISS THE TIGERSHARKS 5th ANNUAL CHRISTMAS MEET--Dec. 28-29
cut-off times--top-flight competition
the atmosphere you're trying to train for: nat'l caliber
beautiful awards (Greek victory medallions on 30" presentation ribbons--trophies were cheaper but not as good)
we hope to have electric timers at this meet, which may be possibly be tele-taped.
hurry! write to Foam-Fare (address above) for entry blanks.
-1-