(cont'd)
It's so easy for small clubs to debase us because they simply don't speak the same language nor seek the same values. Competition is only a dual meet, meant to be fun and not taken with too much seriousness or intent of purpose. Competition is much more than that. It's dedication to ideals, to elders who profess these ideals, and to coaches who fully realize the direction a champion wants to travel. Not every swimmer can become a champion, but every swimmer can have the opportunity to try. The road is the same whether there's a pot of gold at the end or not, for the road is an ideal, a value, and a challenge. That is why swimmers are different.
Betty Johnson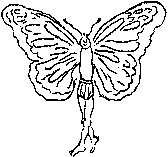 ...a really different swimmer.
Flotsam & Jetsam: The Huntington mile was a bit thick this year, with some events hosting over seventy entries. Gene Lee's Riviera club girls and the Michigan State University boys insured the caliber of competition at a high interest rate--it didn't pay for anyone else to be interested in entering their events. Patton talent was stratified somewhere "back in the pack" in most of the races. Doug Webster was the only winner: 20:27 in four rounds. Next year's Huntington patches will be sticky on one side and come with splints... .......NWAC's Bruce Norvell says he is taking a new philosophy on training...so, anyone wanta buy 23 cases of Nutrament or 4 quarts of wheat germ oil? (on the level). Bruce says he's gonna live like Jeff "Stretch" Longstreth. Jeff is the product of an intense philosophical system: he is trustworthy, loyal, friendly, helpful, courteous, kind, obedient, cheerful, thrifty, brave, clean and reverent, and besides that only trains once a month. The last time I saw him with a can of nutrament, he was waiting for it to ferment. According to Bruce, Jeff's only problem is deciding which stroke he swims best. Personally, I've felt he was a "flyer" ever since that visit he paid me one morning at 3 AM. He was in a quandary over his method of entrance, being full aware that I was asleep on the second floor and that the first floor residents came equipped with shotguns. Certainly anyone who makes it to the roof in the black of night is a flyer" .............. speaking of flies, "Mr. X" noticed that his was open at a dinner party the other night. He corrected the situation but failed to notice that the tablecloth was caught in the zipper--until he stood up and took four steps.......... Water Wonderland was well-paced this year with some stiff times and several near nat'l records in the breastroke among them: Cynthia Goyette (GLSC) 2:53.3 women's 200 m. (l.C.) breast; Jerry Gorski (NWAC) 15-17 100 m. breast, 1:12.6 and 2:45 for the 200; Claudia Mazur (Osborn) 38.5 (50 M. br. girls 11-12 on the way to a 200 m. br. ); Bill Burke (Osborn) 13-14 200 m. br., 2:52. Good Patton times: Doug Webster 18:09 1500 m., 5:19 400 I.M., 200 free 2:10.3, 400 free 4:35, 200 back 2:26, 200 fly 2:25 (all meters); Mary Beth Ceresko 1:13.9 100 m. fly (2:44 200 m. fly after workout); Carol Danboise 1:07.8 100 m. free; Tom Bates 1:19.5 100 m. br.; Joanne Scarborough 3:01.6 200 m. br., 1:24.8 100 m. br.; Dave Kee 1:07.8 100 m. free...........Patton alumnus Lee Davis, since then under the apt guidance of Vesper's Mary Kelly, qualified again at the women's nat'ls: living proof that altruism and personal drive are compatible.............a certain select group of Pattonites went horseback riding a while back to test their all-around skill. Results: negative. The last thing the stable owner said was: "don't let them horses near a mud puddle!"
-4-